In the previous lessons, we became familiar with the new interface of Microsoft Word 2007. We also learned how to create, open and save document and the options involved. Today we are going to discuss about printing. It's really simple to configure printing options in Microsoft Word 2007. We can print an open document by going to office button –> Print. There are three options in Print Menu.


1- Print – If you select the first option, which is print, it will give you the print dialog where you can configure different options. We will see that in detail later.
2- Quick Print – If you select quick print, it will just use the default settings and will print the document directly. It will not ask you of any configuration settings. So if you have configured your printing settings, then you can easily print using Quick Print option as it will be faster.
3- Print Preview – Print preview will give you

the view of how the document will look like after it has been printed on the paper. So by previewing your document, you can make sure everything is according to what you're expecting.


In print preview, you can change the margins and orientation of the page to be printed. And you can select the paper being used for printing i.e. whether you're using A4 size paper or a letter or an envelope etc.
Printing Settings 1:
You can change the print settings by going to office button –> Word Options –> Advanced.
In advanced, find the Print heading.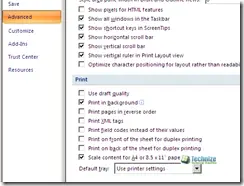 Print Settings 2:
Now we come back to our first point i.e, the print. So we want to print a document and we want to configure some printer settings. We can do this by going to office button –> Print –> Print. This will show you a dialog box which has got lots of options.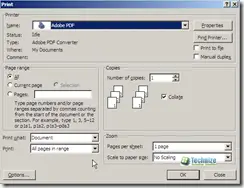 From this dialog, we can select the printer from which we want to print the document, which pages we want to print (whether some pages or all of 'em). We can also specify what we want to print, whether the document itself or we can also print the document properties.
Shortcut: The shortcut for bringing the Print Settings is Ctrl – P.
This ends our discussion about Printing in Microsoft Word 2007. If I have left something or you have any question regarding, please let me know. In the next lesson, we will discuss about Document Views. Stay tuned :-).