I understand that many iPad and iPhone users prefer applying video chats via Skype. However, a lot of people still find instant messaging clients very useful for quick chatting. Skype has a feature of IM as well but still there are better alternatives to this tool available in the AppStore. I offer for your consideration few multifunctional applications at low cost you can get from the AppStore to chat with your online friends whenever you like with minimal resources (traffic and money) spent.
IM + Pro: a premium instant messenger client for your smartphone or pad!
Price in the AppStore: $ 9.99
IM + Pro will give you the ability to use one of the most convenient IM clients I have seen on your iPad. Functions of this program are uncountable. There is a voice command mode support (though, it must be purchased separately), IM chat and the complete Skype support. You can communicate with users of AIM, Jabber, Google Talk, ICQ, Yahoo, MSN and Facebook. The system of push notifications and message alerts works without any delays or bugs. IM + Pro is one of the best IM programs for an iPad.
BeejiveIM for iPad delivers the old-school IM chat service!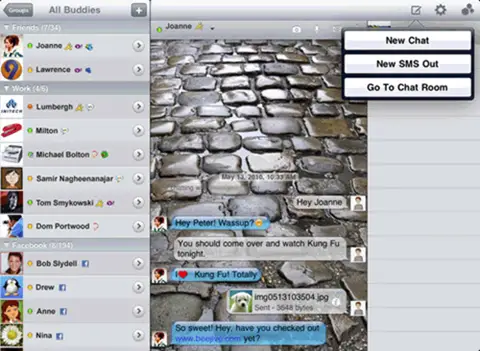 Price in the AppStore: $ 9.99
BeejiveIM for iPad was created, foremost, for those who like classic "old-school" chatting from 2000s when there were only few social networks available. With BeejiveIM for iPad app you can chat with people via MSN, Yahoo, Google Talk, Facebook, Jabber and even MySpace. The program's interface does not stand out since it has quite common design of the regular instant messenger client. However, BeejiveIM is a great alternative to IM + Pro if you didn't like its interface or options, though there are not many functions comparing to other applications.
Agile Messenger HD Pro – a universal IM client with great social networking support!
Price in the AppStore: $ 7.99
Agile Messenger HD Pro supports AIM, Yahoo, Google Talk and Facebook. The awesome integration with Facebook social network will allow you even leave messages on the walls of friends and news feeds. It also supports sending pictures and voice messages. I can't call this program ideal, because it requires a lot of memory on any device, and the functions are quite limited, to be honest. In general, the program is for everybody who likes to use IM clients as well as to chat via social networking sites.
AIM for iPad: a free IM client with minimalistic design and options!
Distributed for free in the AppStore
AIM for iPad is a great tool for those iPad users who do not want to spend money on the instant messenger client. Another reason to choose this application is because it is simple and unobtrusive. Push notifications work reliably and you will not miss a single message. You can connect AIM for iPad to Facebook and MobileMe. The interface is convenient to use and minimalistic letting you use this program both in landscape and portrait modes. You can change a background of the app and even switch between different preset themes of the program. Be aware that AIM for iPad is the best program for users of AIM clients.
Have other IM clients for iPads or iPhones to offer?
You are more than welcome to share your favorite IM programs with me and other readers since there are so many good programs fro chatting are currently available in the AppStore. Also do not forget to leave your comments and rating about the reviewed in this post applications!
Article is written by John Page, the co-founder of softwarewithstyle.com, a blog focused on iPhone, iPad and Mac related articles and you ask/we answer posts. I explore the issues related to the Apple products, and can help with repairing and using of iPhones, iPads or Macs in my blog. Also you can follow me on facebook.