There used to be an option in Windows XP under Folder Options about the File Type Associations but this option disappeared in Windows Vista and Windows 7. One may argue that Windows Vista and 7 do have the file type associations option when accessed through control panel but this seems to be a cut down version of the original file type associations option in Windows XP. Windows XP version used to be much more advanced as it allowed advanced editing of File Type Associations.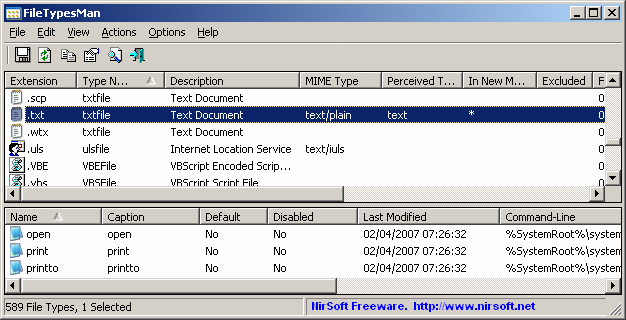 Nirsoft has developed a little utility called FileTypesMan that brings back the File Types tab in Folder Options of Windows Vista and Windows 7.
It displays the list of all file extensions and types registered on your computer. For each file type, the following information is displayed: Type Name, Description, MIME Type, Perceived Type, Flags, Browser Flags, and more.
FileTypesMan also allows you to easily edit the properties and flags of each file type, as well as it allows you to add, edit, and remove actions in a file type.
FileTypesMan works in all versions of Windows starting from Windows 98 through to Windows 7.
Download FileTypesMan from here (x86) or here (x64).