I have been using Snagit for a long time for screenshots and screen capturing. A few days back, Sameshow team contacted me for a review of their software, Wondershare screen recorder Democreator. I decided to give it a try and was amazed by it's capabilities. It's far advanced than any other screen recording solution I have used.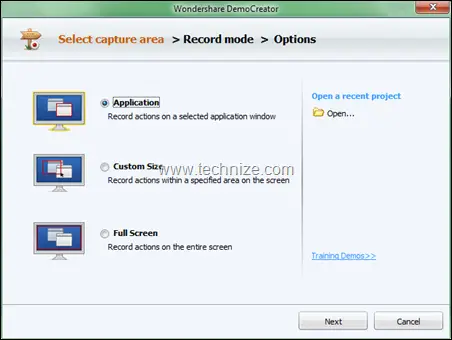 It gives me three options for screen recording, one, I can capture the screen actions of one window which is very good for application recording. Two, I can set a custom screen size and record the screen actions of the selected area. Thirdly I can record the whole screen. It also gives me the option to either capture a screenshot based on clicks and typing or full fledge recording without any pausing or I can also use F7 key to take the screenshots I want.


If I want to record the audio narration during recording, I can select it on the next screen. Stopping a video is very easy. Just press F10 and the video will stop recording. Then it will show the post recording options where I can preview, edit and produce the video. Editing a video is really a fun work. I get a Microsoft Office 2007 like interface with the Ribbon toolbar.


The best thing I love about Wondershare DemoCreator is the publishing feature. I can publish my videos in flash format or any other popular format such as AVI, WMV, MOV, MP4 and FLV. I can also publish my video optimized for YouTube or otherwise I can also make a standalone executable which can play my video without any media player.


I would highly recommend this tool to all the professionals who do screen casting and screen recording regularly.
Lastly I would like to announce the giveaway of Wondershare DemoCreator software to 10 lucky users of Technize.com. All the users are welcome to take part in this giveaway contest. All you have to do is comment on this article and give your views about technize.com and Wondershare DemoCreator. The ten best commentors will be selected from the comments. Please note that this is a two step giveaway. In the first step, winners will be chosen from the comments and then announced in another article on 14th september 2010. The winners must comment on the winners page to get their licenses.
To follow and participate in further giveaway contests, you can subscribe to technize.com via email or RSS. To suggest or request a giveaway software, go to our giveaways forum. Also see this post for future giveaways that we have planned. You may be interested in a free video converter tool.