Usually if we have an ADSL/DSL internet connection, we tend to have a modem or a router to connect our laptops and computers to the internet. If we are going for a cheaper option, we tend to buy routers without wireless capabilities. The problem arises when we have a wireless mobile device and we want to use internet on it using our ADSL/DSL connection, we can not connect the mobile device through the ethernet cable. It can only be connected wirelessly.
The good news is that if we have a laptop with wireless capability, we can turn this laptop wireless into an internet hotspot. Then other mobile devices and even other laptops with wireless capabilities can connect to the internet through this laptop wireless.

Connectify is a software based wireless router which turns laptop wireless into a full blown Wifi hotspot so that other wireless devices can connect to it for using the internet.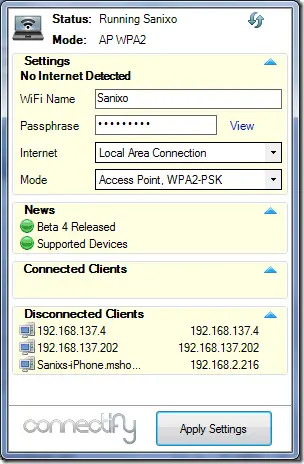 Connectify is very easy to use. Just enable the laptop wireless, open connectify and enter the following details:
Wifi Name: This name will be shown to other connecting wireless devices.
Passphrase: Password for your wifi hotspot.
Internet: Select the wired ethernet connection which is coming from the internet enabled router or modem.
Mode: This is the security method to be used.
Apply settings and turn on the hotspot using the status bar icon.
Connectify can be downloaded from the following link:
[download id="223″]