Since Windows Vista, people have been finding it difficult to get used to the new interface. One thing that has bugged many users is that the location of many settings has changed. Sometimes it's completely different from Windows XP.
Windows 7 In A Box solves the problem of finding each and every tool and setting from within Windows 7. Windows 7 In A Box is a portable tool that does not require to be installed. Just run it from anywhere, desktop, any folder or even a USB drive and it'll run smoothly.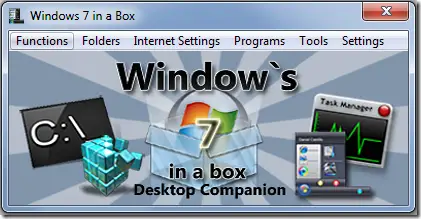 Windows7 in a Box was designed to help guide you through the brand new operating system from Microsoft. Everything from Theme settings to Parental Controls. Sits on your desktop, easy to navigate and puts an end to all the frustration of endless searching for settings. Spyware, Adware and Malware free.Windows 7 in a box can make the complete novice seem like a pro in just seconds.
You can see in the picture above that Windows 7 in a Box mainly consists of menus. Each menu shows a list of different settings.
Let's see the first list here:
All these menus consist of almost all the settings and tools that we use in Windows. Very useful tool to have all Windows tools settings in one place.
Windows 7 In A Box can be downloaded from the following location:
[download id="249″]