As an IT Professional I have to deal with a lot of computers having security issues everyday. The biggest problem I face in my assessments is that there is no anti-virus and anti-spyware installed in the system while the owner thinks that he's protected. Most of the people do install a free anti-virus but don't think of installing an anti-spyware app which is a must if you use internet regularly.
I have used a few anti-spywares in the past and SUPERAntispyware is one of them. SUPERAntispyware has two versions, a free version and a paid professional version. When I installed SUPERAntispyware, it was quite easy to use interface. First of all it asked me to update the definitions during the installation which I did quite comfortable.

SUPERAntispyware main window has five options. Scan you Computer will scan the computer for spyware, adware, malware, trojans, worms, parasites and other malicious software that may be installed on your system without your knowledge. You can also schedule the scanning process. The professional version also includes real-time scanning which protects your computer all the time. Spyware definition updates can be done manually as well as automatically which checks for updates every 8 hours.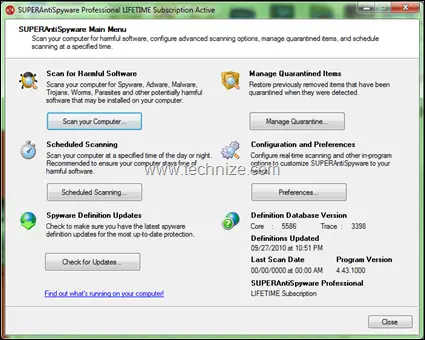 The greatest feature of SUPERAntispyware that I found out is the System and Browser Repairs. If ever your browser or system is hacked by a spyware or malware, Just open SUPERAntispyware, go to Preferences, Repairs tab, select the option which you want to reset and the click on Perform Repair. The repair option can enable Start Menu Run Dialog, enable System Tray, enable Task Manager, enable Windows Control Panel, enable Windows Explorer Folder Options, reset Home page, reset Internet Zone security, reset local page, remove Desktop Screen Saver, remove Explorer Policy Restrictions, remove WinOldApp Policy Restrictions, repair Desktop policies and a lot more.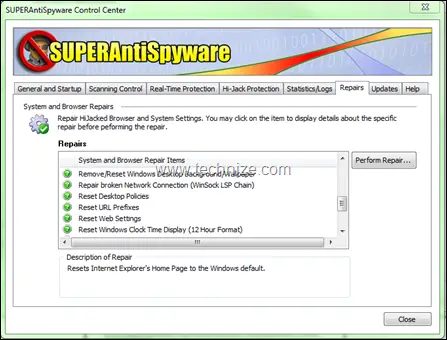 SUPERAntispyware also comes with a portable version for troubleshooting already infected systems. SUPERAntispyware is one of the must have security products if we use internet a lot. Here are the download links for different versions of SUPERAntispyware:
Mike from SUPERAntispyware is kind enough to provide us 5 licenses of SUPERAntispyware for giveaway to our readers. To win a free license, all you have to do is comment on this article and give your views about technize.com and your personal review about SUPERAntispyware. The five best commentors will be selected from the comments. Please note that this is a two step giveaway. In the first step, winners will be chosen from the comments and then announced in another article on 5th October 2010. The winners must comment on the winners page to get their licenses.
To follow and participate in further giveaway contests, you can subscribe to technize.com via email or RSS. To suggest or request a giveaway software, go to our giveaways forum. Also see this post for future giveaways that we have planned. You can also follow me on twitter @technize.