What if we could see our hard drive contents like the map of the earth? everything visual with the names of the countries and other important information in it. Then, like seeing the earth globe we can figure out how big Russia is and how many islands islands Japan has, we could easily figure out what was the biggest folder on our drive and how many files a folder contained :-).
This was only a perception in my mind till today but today I have found my dream come true :-). I have found one software that visually displays the map of the drives in our system. Its name is SpaceMonger.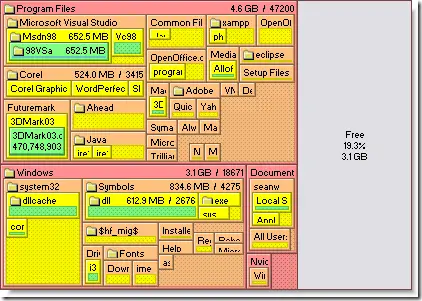 Usability:
As the image suggests, SpaceMonger displays each and every folder and file of a drive graphically. The good thing is that you can also zoom in and out of the map. So if you want to concentrate on a single folder, just use your mouse scroller or the zoom button on the left pane to zoom in and out of the map. If you double click any folder, that folder will zoom in to fit the screen.
If you are having any space constraints, you can easily see from the map that which folder or file is using the most space and you can free up some space by seeing the map directly.
If you want to open a file or folder, just right click on that folder or file and then select Open. SpaceMonger also support operations like cut, copy and paste.
If you only want to scan a specific folder, just select Folder Tree from the left most pane. This will give you the folder tree view like windows folder tree. Just select the desired folder, right click and select Scan Folder. This will give you the map of that specific folder.
Graphs and Statistics:

SpaceMonger goes a little ahead of creating the drive maps. It can also show the graphs and statistics of the drive for example, the percentage of documents, programs, audio, video etc on that drive.
Compatibility:
SpaceMonger is compatible with all the Windows Operating systems from Windows 95 to Windows 2003. And all the Windows filesystems like FAT, FAT32 and NTFS are supported. The network file system is also supported.
Disadvantage:
The biggest disadvantage of SpaceMonger is that it is not free :-). The owner, please give me a free license :-).
File Information and Download:
Version: 2.1.1
Filesize: 1279.6 KB
Type: Shareware (30 days trial)
Download here.
Price: 19.95$ – Single User License.
Buy from here.