Adobe Reader is a great utility to view PDF documents. Nitro PDF Reader is a free alternative to Adobe Reader.
Nitro Reader offers navigation panes, including Pages, Bookmarks, Comments, Output, Signatures, and Attachments, allowing for easy navigation of larger documents, and providing a central location for additional content.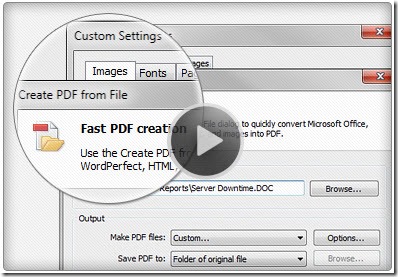 Create from over 300 formats
Create PDFs from virtually any Windows application. Convert any printable files to PDF directly from the source, or within Nitro Reader. Nitro PDF Creator, a virtual print driver, lets you print directly from your favorite applications.
Drag it. Drop it. Done.
You can drag any file onto the desktop icon to instantly create a document. All PDFs created with Nitro Reader are 100% compatible with other leading PDF readers and editors. So you can share them securely with anyone, anywhere.
Full-featured PDF creation.
Free doesn't mean limited. You can completely control the output: customize the colors, font-embedding, page size, orientation and output quality. Or just keep it simple with 3 handy presets: Web, Office, and Print ready.
One benefit of Nitro PDF over Adobe Reader is that it can also create PDF documents in addition to reading.
Download Nitro PDF Reader
Download Nitro PDF Reader 3.5.5.2 32-bit edition