Lately AV-Comparitives have released their Antivirus/anti-malware comparison report. There are several interesting findings in the report. First of all, a little disappointment for me as I have been using Kaspersky for a very long period of time and I love this little giant. But somehow, now it's losing its no. one position in the anti-malware market.
G DATA, which is a German security solution, seems to be picking up fast as it had the lowest percentage of missed samples that were tested with 16 major security products. Following are the products that were tested and compared:
G DATA Antivirus 20.0.4.9
AVIRA AntiVir Premium 9.0.0.446
McAfee VirusScan Plus 13.11.102
Symantec Norton Antivirus 17.0.0.136
Avast Professional Edition 4.8.1348
F-Secure Antivirus 10.00.246
BitDefender Antivirus 13.0.13.254
eScan AntiVirus 10.0.997.491
Trustport Antivirus 2.8.0.3017
ESET NOD32 Antivirus 4.0.437.0
Kaspersky AntiVirus 9.0.0.463
AVG Antivirus 8.5.406
Sophos Antivirus 7.6.10
Microsoft Windows Live OneCare 2.5.2900.28
Kingsoft Antivirus 2009.08.05.16
Norman Antivirus & AntiSpyware 7.10.02
Here is the graph of missed samples by all these products, G DATA being on top and Kaspersky landing on 11th position.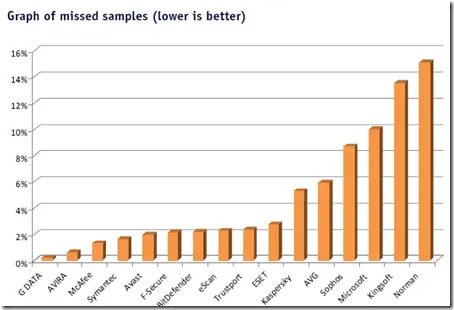 Detection rates of these antivirus products are as follows:
Here is the scanning speed of the antivirus solutions:
Now you can have an idea which antivirus is going on top at the moment. I'm using Avira right now which falls in the top 4 category. If you want to go through all the details of the scanning results, please visit the following website and go to the latest reports. You will find all the reports and results there.