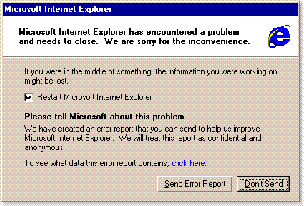 Internet Explorer to me is a very delicate browser. There are some major improvements in IE 7 but the base remains the same. People find it very difficult when Internet Explorer crashes and all the data is lost. Sometimes, the Internet Explorer keeps on crashing. There are several reasons behind this but the most common reason is the add-ons which are installed in Internet Explorer.
How to Find Out the Installed Add-ons:
Internet Explorer 7 includes an add-on manager which can be accessed from Internet Explorer Tools Menu –> Manage Add-Ons –> Enable or Disable Add-Ons.



Internet Explorer 6 or less has this option in Tools –> Internet Options –> Programs –> Manage Add-Ons..
Here you will see all the Add-Ons which are installed in Internet Explorer. The most common reason of Internet Explorer crash is that some application has probably installed an add-on for Internet Explorer and it's not working properly.
How to Fix Crashes:
When Internet Explorer is constantly crashing, go to Control Panel –> Internet Options –> Programs –> Manage Add-Ons.


See in your Crash error report that will be displayed after the crash, which module has created the crash. If you can't find it, just try disabling the enabled add-ons one by one and see if your Internet Explorer start working again or not. Keep on doing this until you get the module which was creating troubles. Disable it and enable all others.
Having more problems?
Microsoft has a very good troubleshooter regarding Internet Explorer. If you are having more problems with Internet Explorer, I would recommend going to the following site and troubleshoot your problem.
http://support.microsoft.com/gp/pc_ie_start
Want to crash your Internet Explorer again?
Just for fun, here is a website, if you open it in Internet Explorer, it will crash :-).
http://www.crashie.com/
By the way I would recommend Firefox for better browsing and web experience. If you are not using firefox, download it from here: