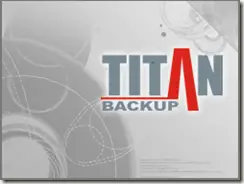 While going through the list of sites I visit daily to keep myself updated, I came across Gizmo's Tech Support Alert.
Backup software is not used only for emergencies.
If you buy a new computer, using Titan Backup software you can easily transfer all backed up documents from your old computer, even if you change the Windows version. Titan Backup software is an easy-to-use and complete solution, designed for secure backups of all your important files.
Gizmo's Tech Support Alert users have been offered Titan Backup Software for free. If anyone wants to get Titan Backup Software including the license key, please follow the instructions:

Download Titan Backup Software from the following link:
[download id="104″]
Install Titan Backup Software and when asked for license key, put the following key:
000020-ACM8KK-1YXPMT-JZT49Z-05Z6JZ-7C68TR-9Y7FU9-6PD2P8
Enjoy the backup software for free.