PDF (Portable Document Format) is the file format created by Adobe back in 1993 for exchanging documents. It's advantage is that the document created in PDF format looks the same regardless of the Operating System, hardware or software. The PDF file includes all the images, fonts, text etc within the single file. Adobe Acrobat Reader is the best PDF file reader to me as I'm very comfortable with it. But when it comes to PDF creator or converter software, there are so many competitors in the market. Adobe also has a very good PDF creator called Adobe Acrobat Professional which is not free. As I'm a freeware junkie, I will list out all the PDF Writer software that I have used. I will try to analyze each and every of them.

PDF995
PDF995 is the first free PDF writer I have tried. It's very good in creating the PDF files. It's features for creating PDF files include link and bookmark insertion. So you can easily create the bookmarks and the links are automatically inserted in the document you create. You can also convert from PDF to HTML. If you want to restrict your document (Restricted printing, modification and copying of text and images from PDF files), you can do so using PDF995.
How to use PDF995
To create a PDF of any document, just go to that document –> Print and select PDF995 printer driver from the drivers list. Do not select Print to File. After you press OK, it will ask you where you want to save the newly created document as shown in the pictures below: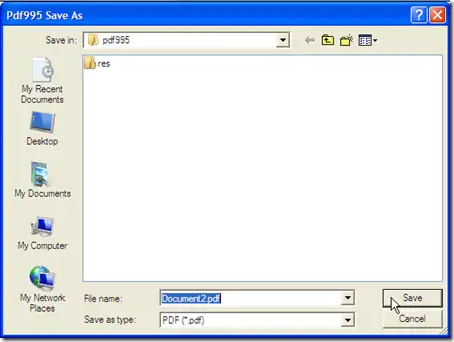 The disadvantage of using PDF995 is that it displays an annoying sponsor page each time we print a document.


If you want to have more advanced options for PDF995, just download PDFEDIT995 which will give you the options to create links, bookmarks etc. and the features which I mentioned above.
File information and download
Compatibility: Windows 95, 98, ME, NT, 2000, XP, Vista (32bit & 64bit)
Version: 8.4
File size: 2.1MB + 5.0MB
Download: There are two files that you should download and install both of them to start using PDF995:
Pdf995 Printer Driver download
Free Converter download