Publisher: Smart Projects
Operating System: Windows (All)
License: Freeware (Limited Edition)
Download: Download IsoBuster
Publisher's description:
IsoBuster is an award winning , highly specialized and easy to use CD, DVD and blu-ray (BD, HD DVD) data recovery tool. It supports all CD / DVD / BD / HD DVD formats and all common file-systems … Rescue lost files from a bad or trashed CD or DVD disc, save important documents, precious pictures, video from the family, your only system backup, …    IsoBuster can do it all !
If you are looking for an all in one data recovery software for removable media, ISOBuster is the best software for this purpose. It can do a tremendous job of recovering data from bad and corrupted media with better error handling.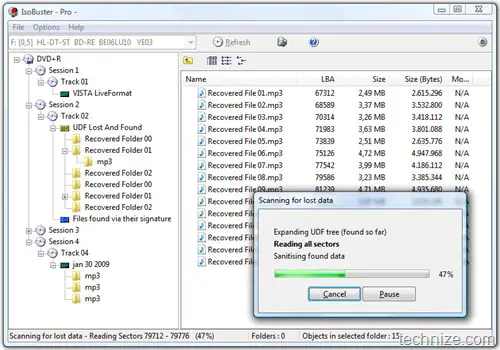 If multiple sessions were written on the CD or DVD disk, all the sessions can be recovered. There is a long list of formats that are supported including the following:
CD-i, VCD, SVCD, SACD, CD-ROM, CD-ROM XA, CD-R, CD-RW, CD-MRW, … DVD-ROM, DVCD, DVD-RAM, DVD-R, DVD-RW, DVD+R, DVD+RW, DVD+MRW, DVD+R Dual Layer, DVD-R Dual Layer, DVD+RW Dual Layer, DVD+VR, DVD+VRW, DVD-VR, DVD-VRW, DVD-VM, DVD-VFR, BD-ROM, BD-R, BD-R DL, BD-RE, BD-RE DL, BD-R SRM, BD-R RRM, BD-R SRM+POW, BD-R SRM-POW, BDAV, BDMV HD DVD-ROM, HD DVD-R, HD DVD-R DL, HD DVD-RW, HD DVD-RW DL, HD DVD-RAM, HD DVD-Video
The only down side of this is that it is not free but costs $29.95. If you are looking for a free one, you can see recovering files from corrupted/scratched CD/DVD.