I have previously reviewed All My Movies for which we gave some free licenses to our readers and also Audio comparer which can compare the audio files according to the audio inside the files. I had requested some licenses of Audio Comparer from Bolide Software. Max is kind enough to offer 3 licenses of All My Books which is a very good book catalog software to Technize readers.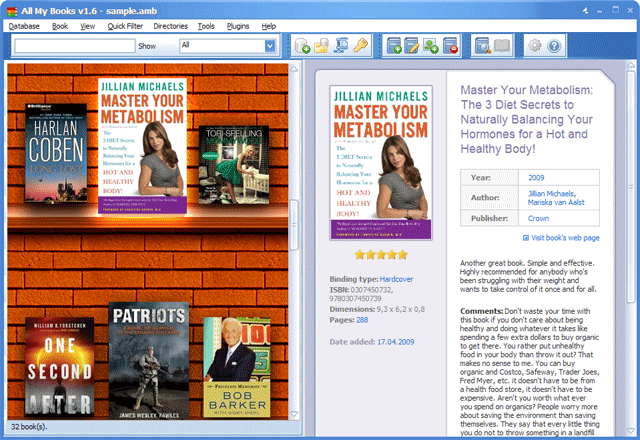 First let's have a look at what All My Books is all about. All My Books is a book catalog software which can store information about your book collection. If you have a large collection of books or e-books, it's always easier to search and find the book from the digital catalog rather than going through all your book shelves or in case of e-books, just click on the e-book and All My Books will open the e-book for you.
All My Books can automatically find the book information from the internet and it'll also give you reviews of the book from the internet. The digital library can be exported into many formats including ext, HTML, CHM, PDF, XLS (Microsoft Excel) and export to mobile devices is also supported.
More interestingly, All My Books can also supports Audio Books. One can easily start playing the audio book in just one click. Network mode lets users share the book database across the network.
All My Books comes in several languages including English, Bulgarian, Czech, German, Russian, Slovak, Spanish, Turkish, Ukrainian, Italian, Korean, Polish.
Download All My Books from here.
The Giveaway
All My Books normally costs $39.95 but Technize is giving 3 licenses to Technize readers for free. So what you have to do to enter into this giveaway contest. Let's take a look:
Contest Rules
The contest will start from today and will end at the end on 21st July 2010
The winner will be chosen from random.org
Anyone can take part in this contest
Requirements
If you use twitter, please re-tweet this giveaway offer
Subscribe to Technize.com newsletter
You must comment on this article with a valid email address
Hurry up and comment as early as possible as there are only 3 licenses available for the giveaway.
For more giveaways on Technize.com, please keep visiting the giveaway page.