For a long period the Westbyte Inc. had stopped the development of their popular Internet Download Accelerator.
Now Internet Download Accelerator is free for non-commercial use.
The Accelerator also comes up with Portable version for those who want to carry their personal data with them on mass storage devices.
Features:
Ability to resume downloads from HTTP,HTTPS,FTP Server
With Multi-section download (downloads a file from several sections from the server) boosts the speed of download up to 500%
Supports browser integration with Internet Explorer,Chrome,Opera,Safari,Firefox.
1 Click enable/disable integration option.
Ability to download videos from Youtube and other popular video sharing web sites

Active Visual Cart technology lets you to work with IDA without opening the main program window.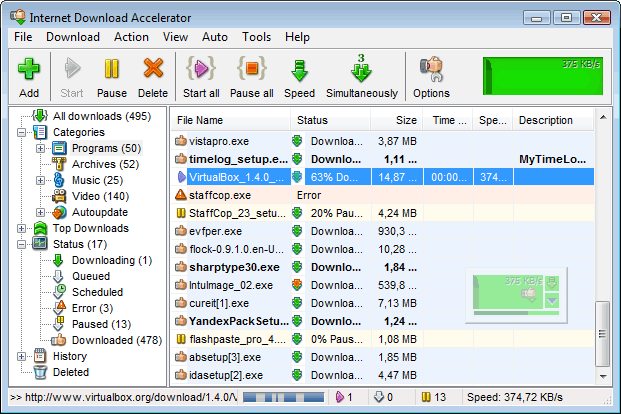 System requirements:
Microsoft© Windows 95/98/ME/NT/2000/2003/XP/Vista/7/2008
Supported languages:
English, German, French, Dutch, Spanish, Portuguese, Czech, Russian, Ukranian, Hungarian, Croatian, Polish, Danish, Japanese, Italian, Slovenian, Greek, Arabic, Belarusian, Serbian, Turkish, Chinese, Persian, Lithuanian, Bulgarian, Bosnian, Korean, Hebrew and more.
[download id="341″]
[download id="342″]