Microsoft is well known in its licensing authorities but here are few very good and free utilities provided by Microsoft to do day-to-day tasks easily with a professional manner.
1. Microsoft Office Outlook Connector
Microsoft office outlook connector is a small utility that let you to configure your Windows Live, Hotmail, Gmail or Microsoft Office live e-mail account in your Microsoft Office Outlook 2003 or Microsoft Office Outlook 2007. You can view your messages, contacts, calendar and many more feature absolutely free by using this very easy to install and simple utility freely provided by Microsoft.
2. Microsoft Office Add-in: Save As PDF or XPS
This small utility allows you to convert and save your Microsoft Word documents into PDF without installing any professional and costly PDF convertor on your system. It also allows you to send files as e-mail attachments in the PDF format in a subset of these programs. This Microsoft Save as PDF Add-in for 2007 Microsoft Office programs supplements and is subject to the license terms for the 2007 Microsoft Office system software. You may not use this supplement if you do not have a license for the software.
3. Virtual PC 2007
This software can make a difference if you use it efficiently. It can save time and money as Virtual PC allows you to maintain the compatibility of legacy and custom applications during migration to new operating systems and increases the efficiency of support, development, and training staffs. You can create and run one or more virtual machines, each with its own operating system, on a single computer. This provides you with the flexibility to use different operating systems on one physical computer.
4. Windows Easy Transfer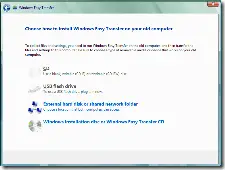 Windows easy transfer can easily transfer your files from old operating system like windows XP to new operating system like Windows 7 easily and efficiently. Use Windows Easy Transfer to copy your files, photos, music, e-mail, settings, and more from a computer running Windows XP to a computer running Windows 7. You can transfer data using an Easy Transfer Cable, removable media, or across a network.
5. SyncToy
It is a free application that synchronizes files and folders between locations. Typical uses include sharing files, such as photos, with other computers and creating backup copies of files and folders. There are files from all kinds of sources that we want to store and manage. Files are created by our digital cameras, e-mail, cell phones, portable media players, camcorders, PDAs, and laptops. Increasingly, computer users are using different folders, drives, and even different computers (such as a laptop and a desktop) to store, manage, retrieve and view files.